Readers, it was a busy summer and it's shaping up to be a busy fall! Every so often I share with you the books I've read in the hope that you will discover new titles or find your way back to the library and back to books if you've been in a reading dry spell.  I also want to highlight the idea of reading communities.  When you read a great book or a terrible book, what's the first thing you want to do?  Talk about it with someone!  Reading communities are the people in your life you go to when you want to talk books: friends, classmates, book club members.  If you're looking for a reading community, consider registering for any of the book discussions hosted by the Levittown Public Library, like  Page Turners (led by our reference librarians) and Adult Book Discussion with Fran Cohen.  You can always leave me a comment or two (or three or four), if you also loved a book that I loved, or maybe you loved a book that I hated.  I want to hear from you! And I'm always open to book recommendations.  For now, let's talk about the good, the bad, and the questionable book choices I've made over the last few months.
The Great American Whatever: Tim Federle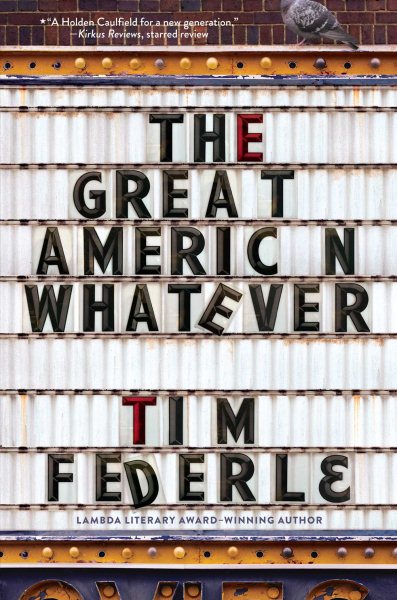 Quinn Roberts plans his life like a screenplay, but when his sister/filmmaking partner is killed in a car crash he hibernates with his shut-in mother and can't figure out how his story should end. A persistent friend and older love interest slowly force Quinn to come back into the world and throw away all the rules he learned from film. A great and honest story, with so much heart and an honest narrator. Bonus fact: I met the author, Tim Federle, at this year's BookExpo and he was an absolute delight.
Always and Forever, Lara Jean: Jenny Han
The final book in the Lara Jean series does not disappoint, though I finished the last page wishing and hoping that Jenny Han would write more. Although it took some time to ease into the familiarity of the story–Han laid some groundwork, catching readers up–the story hit its stride (as in previous installments) when Lara Jean navigates her relationship with heartthrob/romantic/ultimate fantasy boyfriend Peter Kavinsky. It's honest, bittersweet, and endearing; all very Lara Jean❤️
Stories I Only Tell My Friends: Rob Lowe
The audiobook, read with Lowe's incredible voice (he's an excellent mimic and uses his acting abilities to perfectly impersonate others) was so thoroughly enjoyable and juicy, I couldn't stop listening. Lowe is actually a talented writer, crafting a well-organized memoir that doesn't feel salacious or explorative in the least. Part of the fun is in hearing the details from the many incredible run-ins and odd connections made during his long career.
Although nothing can top my emotional connection to Dumplin', Murphy's latest bears her trademarks: honesty, humor, and a keen portrait of southern, small-town life from the perspective of those on the fringes. Ramona is a thoroughly modern character and one not often seen: an out and proud lesbian who falls for her male childhood friend, confusing how she sees herself. She's also carrying adult responsibilities that are holding her back. Props for Murphy's honest portrayal of teen sex lives and sexual identity.
The Female of the Species: Mindy McGinnis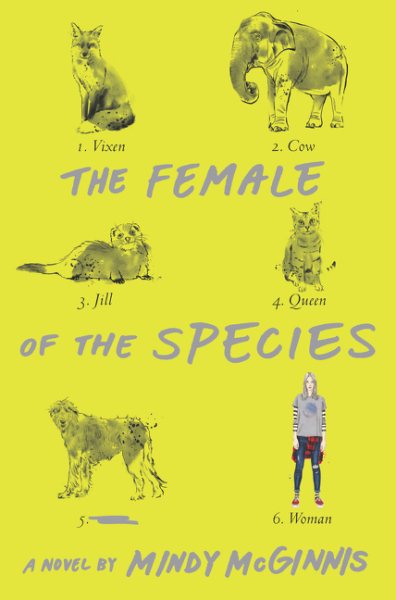 It's hard to know how I feel about this book. It's a dark, disturbing look at rape culture and the violence it begets–the violence that lives in all of us. It's especially disturbing because one of the three narrators, a quiet and smart teenage girl, is a killer, her rage unleashed after the rape and murder of her sister. It's not a quiet book and I'm not sure I would recommend it, but it has a point of view and a clear, albeit disturbing, message.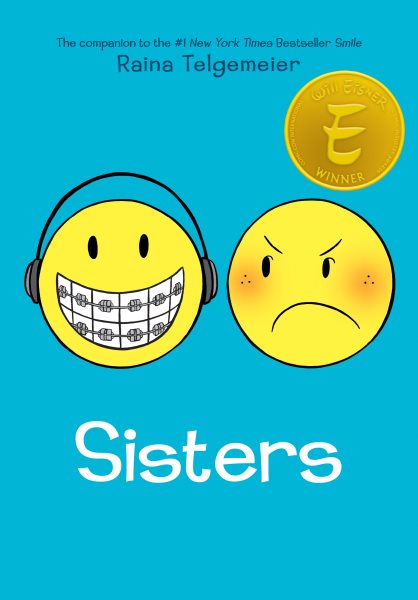 The first of two excellent Raina Telgemeier graphic novels I read over the summer.  I finished Sisters in a single sitting.  As usual, it is full of heart, humor, and a painful/angsty undercurrent of adolescent frustration. Raina always wanted a little sister but gets more than she can handle when Amara shows up. The two fight constantly, especially during a two-week road trip. Certain aspects of the story's conclusion are open-ended, including the status of her parents' troubled marriage.  The girls realize that in the face of pain and uncertainties, they will need to rely on one another.
Eleanor Oliphant is Completely Fine: Gail Honeyman
I first heard of this debut novel from Reese Witherspoon, the new Oprah Winfrey when it comes to book recommendations. I'm so glad I picked it up, because once I did I just could not put it down or stop thinking about it.  Eleanor Oliphant leads a highly ordered and very lonely life in Scotland. She's used vodka to make the hours go by quicker and is highly judgmental of others, though she herself is often criticized by the outside world, especially her enigmatic and bullying "Mummy." She begins to open up and learn how to be social when she and a good-natured colleague help rescue a stranger.  There's unexpected humor in this slightly dark but ultimately uplifting import from across the pond.  
Windfall is blessed with a gorgeous cover and an equally lovely story.  Smith's YA novel is the stuff of dreams: Imagine you're a senior in high school, orphaned and in love with your best friend, who has also gone through tough family situations. As a gag gift, you buy your friend/object of your affection a lottery ticket for his 18th birthday.  He wins the jackpot, $140 million.  Now imagine all the complications that come with that predicament.  I loved Windfall. Smith's honest depictions of friendship, grief, and family are spot on. The wild wish fulfillment the story affords us is worth the read on its own.  Get your hand on it now, before the movie version (written and produced by actress/author/eternal Gilmore Girl Lauren Graham) is released.  
I loved Yeh's first book, The Truth About Twinkie Pie, also set on Long Island. Here, seventh- grader Bea is a poet and dreamer who marches to her own beat, which costs her some friendships. When she befriends a labyrinth-obsessed classmate, whom we can deduce likely has Asperger Syndrome, Bea learns to let her light shine through again. Certain stylistic choices are so smart.  For example, Bea refers to her former best friend only by S, as though it hurts too much to acknowledge the girl's real name, or even to suggest that the girl, whose name we do finally learn at the end, is so different from who she was before seventh grade that she needs to go by a different moniker.  Also a smart decision: the ending.  Bea's friendship doesn't get completely patched up, but that's because Bea's learned to appreciate her own individuality, which is more valuable than anything.
Little Fires Everywhere: Celeste Ng
Thanks to a kind coworker, I received an advance copy of Ng's second novel.  Her first, Everything I Never Told You, was one of the best books I have ever read, hands down.  In her latest, Ng explores the complexities of orderly suburban living, the artistic drive, and the bonds of motherhood and family. Her prose is insightful and gorgeous. The tone is nostalgic and laconic, similar to a 1990's The Virgin Suicides, though this is very much Ng's own masterful work.
Goodbye, Vitamin: Rachel Khong
Ruth is newly broken up from her fiancée and adrift when she learns her father is suffering from Alzheimer's. At her mother's request, Ruth moves back home and writes her observations and interactions with her father, a former alcoholic and philandering professor, now addled with forgetfulness. Told in short bursts of observations both mundane and profound, this book is a tender gem. Read it out loud for full impact.
Another day, another Raina Telgemeier graphic novel read in one enjoyable sitting.  Proceed with caution if you are especially sensitive to stories of dental work.  Telgemeier knows how to mine her adolescence for stories that will be honest and achingly relatable.
The Hate U Give has spent 27 weeks on the New York Times Bestsellers List, is credited with being the first novel born from the Black Lives Matter movement, and will soon be hitting the big screen in a highly-anticipated adaptation.  All the praise is well-deserved. Starr is a black teen who lives in a gang-infested neighborhood and attends a predominantly white private school. When her childhood best friend is killed by a police officer during a traffic stop, she must find her courage, her voice, and reconcile the two distinct versions of herself: who she is at home and who she is at school. A thoughtful and stirring portrait of race in America, showing the struggle from all sides and through the eyes of a teen caught in the middle.   
Seinfeldia: How a Show About Nothing Changed Everything: Jennifer Keishin Armstrong
I listened to this audiobook during a road trip to Maryland.  Laughing is always a good way to pass the time, and Armstrong's behind-the-scenes look at the minutiae of Seinfeld will do the trick.  Especially enjoyable was her Larry David impression–even without making a real appearance, he gets the biggest laughs.
Castle lives in a rundown apartment building with his hardworking mother. He lives with a secret few outside his neighborhood know: his father is in jail for trying to shoot him and his mother. Castle is still traumatized by the event and deals with anger issues as a result. With the help of a kind coach who takes him under his wing and a team of spirited young athletes, he learns to channel his rage into running. A great start to Jason Reynolds' Track series.  Continue with the just released Patina.
All's Faire in Middle School: Victoria Jamieson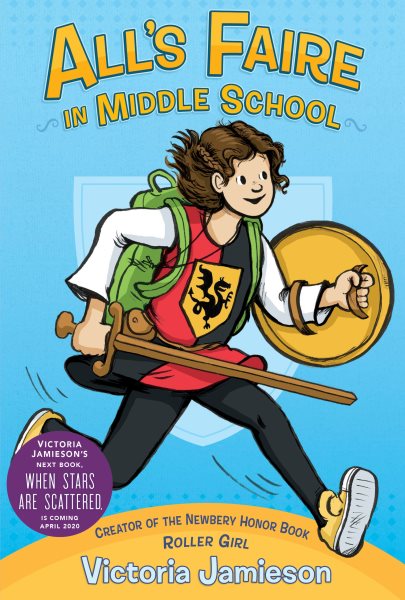 Jamieson's previous middle grade graphic novel, Roller Girl, won a Newbery Honor for its honest portrayal of adolescent friendships and the quest for individuality.  Here, the Renaissance Faire, with its acting of roles, gallantry, nobility and familial spirit, becomes a metaphor of sorts for the roles required of middle school, where playing parts and doublespeak are more treacherous when outside the safety of Faire. Jamieson's art work, some pages like illuminated manuscripts, is gorgeous. Her plot and characterization are so well-developed. By the end, Imogene finally learns to be a true knight–selfless and the first to "scooch" for someone else.  Read the book and you'll know what I mean!
Currently Reading: When Dimple Met Rishi: Sandhya Menon
Looking Forward to Reading: Turtles All the Way Down: John Green.  You guys, it's happening! John Green has a new book coming out October 10th!  Listen to him read the first chapter of Turtles All the Way Down and call us to reserve a copy.
Happy Reading,
Jess